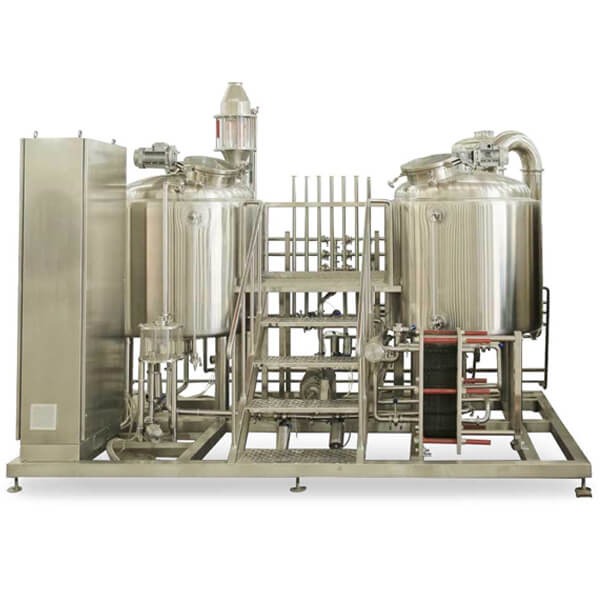 The Brewhouse system contains a lot of equipment. A few of the most common elements of the system are Whirlpool kettle, Boiling Kettle, Mash Tun, Lauter Tun, and Hop Dosing Equipment. The equipment that meets all the global quality standards of sanitary 304 stainless steel is primarily used.
Our scientific Dimple jacket production technology can utmost ground realizes the effect of heat conduction, use high-quality rock wool or polyurethane materials to insulation for the inner tank, and effectively prevent heat energy leakage from the tank. Advanced Lauter Tun raker system and automatic hydraulic lifting technology, can ensure the mash filter is uniform and comprehensive.
The brewhouse system could be included two vessels brew house, three vessels brew house and four vessels brew house includes mash / Lauter Tun and kettle / whirlpool tank. Three vessels include mash tank, Lauter Tun and kettle / whirlpool tank. When it comes to four vessels, they contain whirlpool tank, boiling kettle, mash tank and lauter tun. The efficiency can be boosted because of greater capacity.
There are many forms of scarification system heating, such as steam heating, electric pipe heating, direct fire heating, heat-conducting oil heating, etc.
Certified Commercial Brewing Equipment with quality standards
Brewhouse systems are manufactured using a wide range of professional commercial brewing equipment. Raj Water is one of the leading manufacturers of high quality equipment. We have a wide variety of tools. We build many microbrewery Equipment in India to make it easier for customers to manufacture products easily. All equipment manufactured by us is valid for commercial use. The equipment and machinery are certified as per the international quality standards.
Top Reasons to Buy Commercial Brewery Equipment in India from Us:
Our Microbrewery Equipment in India Is Backed By Intensive Research
Raj Water manufactures high-quality products that are powered by the insights and knowledge gained from comprehensive research. We have a specialized team that develops development strategies of microbrewery equipment India. Our team conducts research and gathers the data and insights needed to build a robust manufacturing system and uses the best possible processes for the production of professional brewing equipment.
Clients Get High Values from Our Efficient Brewery Equipment in India
All companies want to get the most out of the brewing equipment they are investing. We make sure that we deliver high-quality and highly efficient brewery equipment to our clients so that they can get the maximum out of their investment in brewery and microbrewery equipment in India.
We Make Durable and Reliable Equipment
One of the strongest reasons that make us a favorite of many companies is that we make durable products. Our Commercial Brewing Equipment and all other equipment are made using the best possible material and techniques; therefore, they are very strong and reliable. Also, we make sure that our products pass several quality checks before reaching their end-use.
If you want to know more about brewery equipment in India, beer manufacturing plant or other products, Please feel free to contact us.
Download Product Catalogs