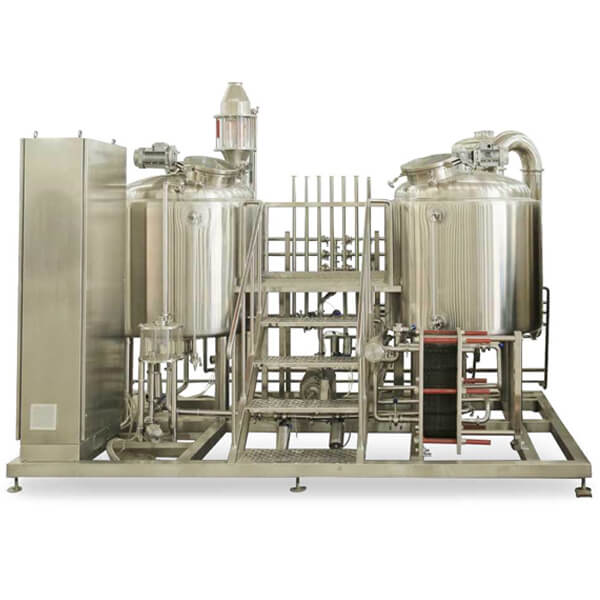 Brew house system consists of Mash Tun, Lauter Tun, Boiling Kettle, Whirlpool kettle, Hop Dosing Equipment. The main equipment adopted international quality standards of sanitary 304 stainless steel, to deal with the tank by plasma cutting, pure AR-shielding welding, and mechanized automatic polishing machine.
Our scientific Dimple jacket production technology can utmost ground realizes the effect of heat conduction, use high quality rock wool or polyurethane materials to insulation for the inner tank, and effectively prevent heat energy leakage from the tank. Advanced Lauter Tun raker system and automatic hydraulic lifting technology, can ensure mash filter uniform and comprehensive.
The brew house system could be included two vessels brew house, three vessels brew house and four vessels brew house includes mash / Lauter Tun and kettle / whirlpool tank. Three vessels include mash tank, Lauter Tun and kettle / whirlpool tank. Four vessels include mash tank, Lauter Tun, boiling kettle and whirlpool tank. The capacity is bigger, the vessel is more and you can also choose the multiplayer assembly from, improve the working efficiency.
The scarification system heating has many forms, such as steam heating, electric pipe heating, direct fire heating, heat conducting oil heating and so on.
Raj Water is a leading manufacturer and supplier of commercial brewing equipment. We have been making a wide range of brewery equipment in India for a wide range of clients. We are considered one of the top choices of clients for microbrewery equipment in India. Our brewing systems comprise the latest machinery and equipment that allow the companies to brew at a fast speed. The brewing equipment that we make is used for commercial purposes, hence, the speed at which the system brews and the accuracy are important. Thus, we have developed microbrewery equipment in India which is meant to work very effectively.
Reasons To Buy Raj Water's Brewery Equipments And Microbrewery Equipments In India:
High Level of Accuracy and Greater Efficiency
One of the top reasons that make any brewing plant or machinery successful is the level of efficiency. Raj Water makes cutting-edge brewery equipment in India. The microbrewery equipment In India is developed in such a way that they brew the drinks at a quick pace and with a high level of accuracy. Therefore, the organizations can yield maximum benefits from the commercial brewing equipment.
Competitive Cost
Commercial brewing equipment requires a certain level of investment. Raj Water offers brewery equipment in India at reasonable and competitive costs. We care for the client and we want them to get the best quality brewing systems at the most affordable rates possible. Therefore, we study the industry trends and based on that we decide the prices of our microbrewery equipment in India. We always make sure to set prices that are comfortable for the clients.
To know more about our commercial brewing equipment, liquor manufacturing plant, water treatment plant, beer manufacturing plant or any other plant or equipment that we manufacture, please feel free to contact us. Raj Water's team will be happy to assist you.
Download Product Catalogs