CSD Rinsing, Filling & Capping Machine
CSD Rinsing, Filling & Capping Machine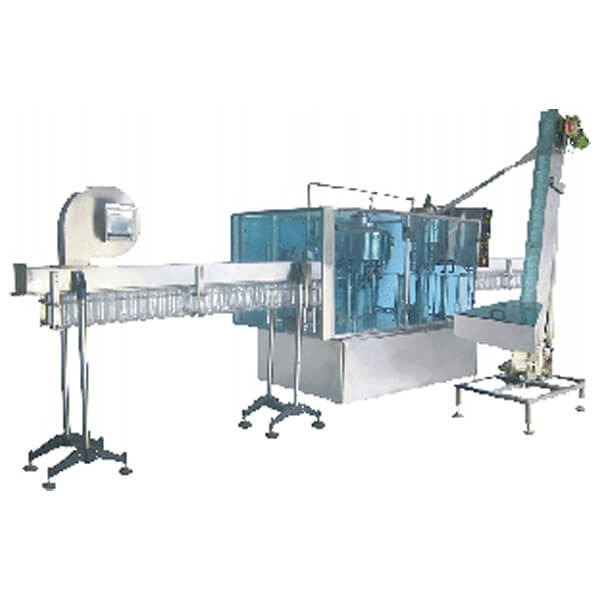 Rinsing
inside of bottles are rinsed by spraying water or air or both. Empty bottles are transferred into the rotary rinsing section by an inlet neck guide. The bottles are held from their neck and inverted by a guide rod along their axis. After being sprayed internally, the bottles continue to move inverted for a while to drain the rinse water, after which they are turned back to the upright position.
The nozzles have "No Bottle – No Spray System" which is activated only by the presence of bottles, sensed at the in-feed spider. The option of attachment of a independent rinser machine is possible, to build a mono bloc machine of Rinser filler crowner / capper for bottles.
Filling
The filling operation is carried by CO pressure, by means of the latest state of the 2 art ULTRA VALVE (mechanical valve) which has a dual snift, one for pre-evacuation or flushing before filling the bottle, the other snift is for bottle head space snifting. This valve has complete CIP features. This valve fills at a very high speed due to the positive lift mechanism. An option of flow meter along with a pneumatic actuator valve (electronic filling valve) for extremely accurate fill can be the latest option.
Capping
Different capping heads can be installed on the mono-block machine to apply plastic screw caps, aluminum caps and metal crown corks. Two types of caps can be applied on the same machine in order to have capability to apply different closure.
Download Product Catalogs