Water Rinsing, Filling & Capping Machine
Water Rinsing, Filling & Capping Machine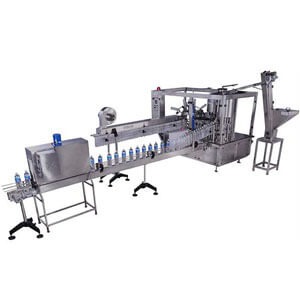 RFC series machinery a fully automatic multi function combined machine integrating washing, filling & capping into single body. This machine is equipped with advance man machine inter-facial control technology with all necessary automation. It works hanging neck holding method hence very convenient bottle change over.
Capacity : 24 / 30 / 40 / 60 / 90 / 120 / 250 / 300 BPM & Above.
Automatic Rinsing, Filling & Capping Operation.
Cap Hooper of 1000 caps capacity.
Power Consumption : 6 to 7 Hp and Higher.
Weight : 1500 Kg (Approx).
Shrink Tunnel inbuilt
Rotary neck holding
Air Blow conveyor on the out-feed with AC driver and inspection table with lighting system.
Speed control by AC drive.
Can handle all bottle size ranging 500-ml to 2000-ml.
Totally hygienic Bottling
Vibratory blow for cap feeding automatic.
Download Product Catalogs